Caliginosa and Fatewise
While Callie still has her Mage Sight actively observing the house, she places her call to Valentine at precisely 11 am. Fatewise similarly has her Sight open continuously as she surveys the area.
The phone rings repeatedly, and her mentor does not answer. But seconds later, you both feel a dizzying sense of vertigo from a willworker's Nimbus as a spell encompasses the door. Neither of you possess the appropriate arcanum to sense the immediate effects of the spell with your Active Sight.
Everyone
Even for those without Active Sight, you sense a supernatural effect on your Periphery; some of you might see a flash of light or hear a bell chime, while others perhaps catch a faint whiff of sulfur. All of you see the door open to reveal a White man in his mid to late 30s with a lean build and trimmed beard, wearing a well-tailored suit.
He glances around quickly, a look of concern on his face, and he studies the neighborhood. "Come inside," Valentine instructs, opening the door the rest of the way and stepping aside so you can move past him into the house.
Immediately upon entering, you have a sudden realization:
This house is bigger on the inside.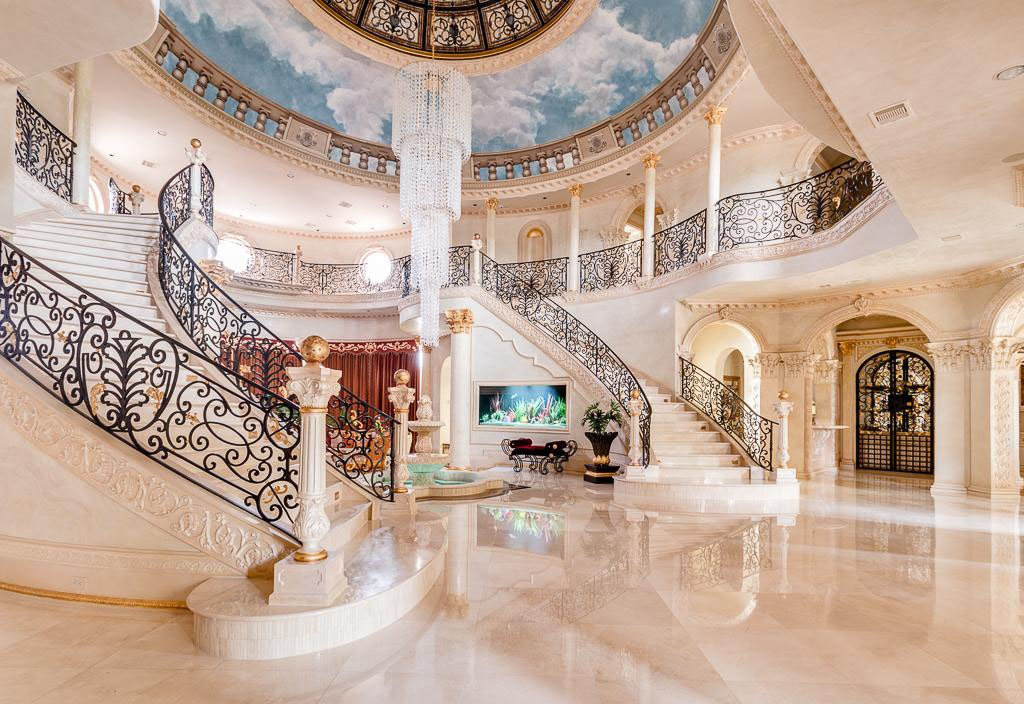 You find yourself in the foyer of what appears to be a mansion. Double stairwells on either side of the foyer lead up to another level, passing a crystal chandelier hanging from the ceiling. You can easily tell that the vaulted ceiling is taller than the entire house had been back on the street, and it had lacked the second level that this one obviously possesses.
As the last of your cabal enters and Valentine closes the door, Fatewise (and anyone else with Active Sight) can see the spell that was on the door disappear, and Valentine seems to visibly relax. "For those who do not know me personally, my name is Valentine." He smiles and offers a handshake to those who will accept one. "I've brought you to my sanctum. I believe we will be safe here. Please, make yourselves at home."
Valentine leads you into a large study on the main floor. There are ornate bookshelves lining the walls; a quick glance shows that many of the books reference occult subjects, and a few have High Speech runes along their spines. There is ample seating, including a couch and several large recliners with leather upholstery. Valentine motions for all of you to take a seat, while he stands and leans back against a marble pillar in the corner of the room nearby.
After you have all settled into your seats, Valentine says, "Thank you all for coming here on such short notice. The house you arrived at is a Guardian safe house, but as you may have guessed, that is not where we are currently located. I created an Iris to this sanctum that is located...elsewhere." A small smile appears briefly on his otherwise serious face. "I will make sure that you will be returned to the safe house when we are done here, or transported elsewhere if desired. My property is shielded against multiple types of prying magic, as a necessary precaution.
"The reason that I have brought you all here," Valentine says with a worried look, "is that I believe you are all in grave danger. Just after the...Deathstorm, one of the most infamous events in the history of this Consilium, we detected an unusual increase in the number of newly Awakened mages. Estrella, the Acanthus Councilor, thinks it is some twist of Fate, or perhaps some cosmic equation correcting for the...the tragedy of the lives that were lost." Valentine pauses.
"Regardless of the reason," Valentine continues, "there were twelve newly Awakened within a week of the Deathstorm, including the five of you. A few days ago, one of them disappeared without any explanation or warning. Yesterday, the other six went missing."
Valentine pauses to let the gravity of this information sink in. He stares intently at each of you in turn.
"The Councilors are aware of this dire news and believe that it is not a coincidence, and that it is the work of other mages, or perhaps one powerful mage. Awakenings have implications for the Kindred and Uratha in different ways, and there are other supernatural beings that might have a keen interest in our society, but it is unlikely that anyone but another willworker would understand the significance of these twelve mages specifically.
"As one of the two Sentinels of this Consilium, and the mentor of one of the newly Awakened mages," Valentine's gaze lingers briefly on Caliginosa, "the Hierarch has ordered me to inform you all of this news and to increase patrols of the Consilium's sancta. I imagine you might have some questions," he says dryly.