The fae beings running around in the World of Darkness are a fascinating subject. From Fairy Animals and Urban Legends to societies of Fae-kin making their way in the Autumn World. So here I will be posting some ideas I have been kicking around.
NIDARVELLIM (KINAIN BLOOD-KIN)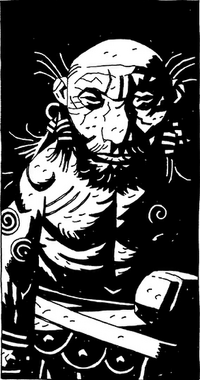 The Nidarvellim, or Dwarves (Old Norse dvergr, Old English dweorg, Old High German twerg, Proto-Germanic dwergaz), are an ancient bloodline of Kinain with a mixed Boggan, Nocker, Troll and Wichtel heritage (and Goblin if you believe House Aisin). To mortal eyes, the Nidarvellim appear as short, stocky humans with a tendency towards thick hair and a grumpy demeanor. However, to Fae senses, these features are greatly exaggerated, with a blacksmith's muscles, rough and even rock-like skin and overlarge noses and ears. The huge beards of legend do still exist, but are less common than they once were.
Nidarvellim are all a industrious and hard working people, prizing craftsmanship and a strong work ethic over other pursuits. They are also great lovers of machines and instruments of war, all traits that have served them well. These kinain maintain workshops and small businesses that focus on craftsmanship and hands-on skills. The extended mortal and fae relations of the Nidarvellim can often be found working in the various businesses founded and run by these stout dvergr.
In Fae society, the Nidarvellim are often seen as caretakers of Fae holdings, a designation that they do not always appreciate. The dvergr see themselves as the keepers of old lore, and the guardians of the integrity of the ancestors. They do not like the Arcadian Sidhe as a rule, and absolutely hate the Aisin, preferring community or Union style politics reminiscent of the ancient Althing over the Parliament of Dreams.
The magical lore of the Nidarvellim is centered around "Earth Magic", and so things relating to stone, metal and fire are all deeply important to the Nidarvellim. Along with knowledge of Arts and Realms, many Nidarvellim magicians are knowledgeable in the Hedge magic paths of Alchemy, Enchantment, Fortune, and Mana Manipulation. These Dvergr sorcerers have close relationships with both the Glomes and the Solimonds, and have often guarded the anchors of these beings. However, as Dvergr are no more likely to be good or wicked than anyone else, this service often comes with a price of oaths, wealth, dross or other steep cost.
Character Creation:
Nidarvellim are Kinain (see page 454-460 of the Changeling the Dreaming 20
th
Anniversary Edition) and are created as such. They are culturally distinct from the rest of fae society. Below are some basic guidelines.
Backgrounds:
Allies, Contacts, Faerie Blood, Resources, Treasure.
Favored Abilities:
Athletics, Brawl, Crafts (any), Gremayre, Kenning, Melee, Lore, Science
Realms (Pick One):
Prop, Fae, Scene
Birthrights (Pick One):
Craftwork (Boggan), Fix-It (Nocker), Strong of Will and Body (Troll), Industrious (Wichtel).
Common Merits and Flaws:
Common Sense, Deformed, Iron Will, Master Craftsman, Short.
NOTES
The Nidarvellim are an extended clan that share multiple faerie kin legacies and a cultural heritage that comes from their mortal origins as well as their fae side. They are descended from mortal slaves of the Aesir (Tuatha), Alfar (Sidhe) and the Jotun (fomorians), who bred them with their servants and fae slaves. The Nidarvellim are an example of a Kinain society within and without fae culture.They hearken back to stories of Dwarves and related Earth People mentioned in legends of the Northern peoples of antiquity. Being of mixed fae heritage, these kinain represent a melding of fae that is distinctly modern to Sidhe sensibilities.
In my home campaign(s), the Dvergr are among the people who kept the lights on in many fae communities, and were very important to the fae during the Interregnum. Since the return of the Sidhe, the Nidarvellim have been under pressure to "bend the knee" to the Sidhe, and they are not happy with this situation. They have a particular hatred for Sidhe of House Ailil, House Balor, and House Varich.