I have an addiction to trying to redeem bad modules. I also love V:TM modules and have done many of them differently than they were written up from
Under a Blood Red Moon
,
Ashes to Ashes
,
Blood Bond
,
Alien Hunger
and other works. Now I intend to tackle the holy grail of bad modules: THE CHAOS FACTOR.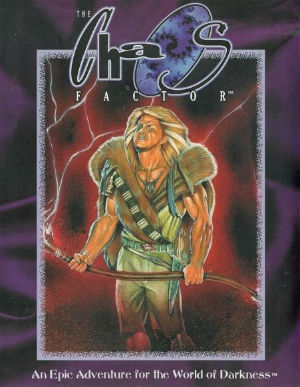 The premise of this deranged adventure is the following:
Samuel Haight, infamous joke NPC, has managed to gain True Magic while retaining the powers of a Werewolf as well as ghoul. He has headed down to Mexico City in order to find an Antediluvian that he has tracked down with dark magic. He plans to diablerize the vampire and become all-powerful because he's basically the Kurgan in terms of personality. The PCs, being good guys, head down there to stop him. The Antediluvian is actually the Baali known as Shaitan and is the one summoning Haight to him. The Baali needs Samuel for some reason and is also in control of the Regent of the Sabbat, Melinda Gailbraith. Competing against the PCs is a corrupted Dreamspeaker who inspired Quetzalcoatl and believes Shaitan to be the Aztec Sun God Huītzilōpōchtli.
It is a SPECTACULARLY silly premise but I think there's something salvageable here.
So I'm open to suggestions for helping me rewrite this to be something interesting. I'm thinking of doing it as a Technocracy Reloaded adventure but it could also end up being a rare case of Traditions and Unionists cooperating.