Modius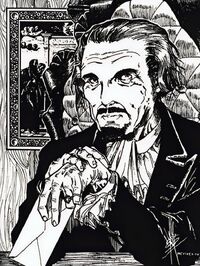 Modius holds a lot of distinctions in V:TM. He's not only the first Prince we ever meet but he's also the first Elder, the first Toreador, and the first NPC period if you don't count the Sample NPC Malcolm. He's a character that has appeared over a dozen times in my games and the games I've played in over the past 25 years. He's also a character that has died numerous times and once was used to murder one of my PCs (a Native American) that the Storyteller didn't like, so he killed him in the Prelude. Modius was also a character that I have used for one of the funniest and most entertaining humiliation Conga lines for a player character (whose player loved it).
He's a character with a lot of history.
The character of Modius has already been introduced to readers as a "Half-Prince" that failed in a Elder feud with Lodin. The irony being that neither Modius nor Lodin were Elders at the beginning of their conflict. In fact, Lodin was a Neonate when he became Prince of Chicago and Modius was actually his elder by about a century. Another thing to show why Modius might be galled by submitting to Olaf.
Random aside: Lodin and Modius also reflect somehting that was a thing in 1st Edition that didn't take off and that's the fact, like Goths, that vampires preferred to be referred to by a handle or pseudonym. For whatever reason, that didn't take off.
Our history on Modius is relatively sparse but the description of him according to Modius is that he is a mystic that was active in the various underground magic movements following the Renaissance and is a founding member of the Arcanum. A look at Modius' stats will reveal this is complete horseshit. Well, maybe not but he has a Occult of 2 (which is pretty low for a 200 year old vampire even if he's just picking up stuff by osmosis), a Thaumaturgy of 1, and 1806 means he was around in the late 17th century but that's "following the Renaissance" by a significant number of years.
My inclinations are that Modius was probably a former patron/customer of Annabelle as she was Embraced in 1722 so that she was about a century old when she turned him. I think Modius impressed her in his younger years with his bullshit about being a wizard and she turned him as he aged out of his cavalier ladies man days. Only after his Embrace did Annabelle realize he was a consummate liar and not nearly as skilled or knowledgeable as he pretended. He's essentially coasted in Annabelle and the late Maria's good graces ever since.
The thing that works about Modius is that he's very much not a stereotype: he's not a traditional Toreador, he's not a very effective Prince, and everyone can basically grok Modius' personality easily enough. We've all seen people like Modius growing up in the 80s--chiefly on Saturday Morning cartoons. Starscream, Cobra Commander, Skeletor, and other villains did not possess a Sauron-esque grandiosity. No, Modius is a coward and backstabber that probably has a very high pitched voice that goes up an octave whenever he's threatened.
Say what you will about Modius but he's MEMORABLE and that is why he's lasted far longer than the vast majority of NPCs in all of V:TM. I think one of the big mistakes a lot of Storytellers make is they often try to make their villains all-powerful or super-devilish when giving flaws to an NPC to balance out the successes is just as good a tool for making effective ones.
There's also a rather uncomfortable bit of suggestion that Modius has two servants and they're both elderly black men he's dominated into complete submission. There's just enough hint of the racial subtext there that he becomes all the more hatable.
How to use Modius
: I have always been inclined to think of Modius as an Edgar Allan Poe character (if not Edgar Allan Poe himself). In fact I've gotten to use several of John Cussack's Edgar allan Poe pictures as a decent Modius. Even his clothing probably hasn't changed much in that time.
Modius works best for me as Roderick Usher if you're familiar with the Fall of the House of Usher. He's a creepy weird guy from a great family, living in a decaying crumbling mansion, and refusing to leave it because that brings too many memories back. If Modius could somehow figure out how to make an underground bomb shelter and fill it with enough humans to survive then he would never leave it. Then again, I suspect a lot of Elders prefer that to keeping up with the real world. Sadly, they don't have Horizon Realms.
One thing I tend to stress in my portrayals of Modius is that he's pathetic, cowardly, and (somewhat) incompetent but he's not SAFE. One of the best uses of Modius I've had was where a supremely arrogant Ventrue PC thought she could push around Modius. It resulted in a long running campaign story where he managed to Dominate her horribly and turn her into his Sheriff/Chief Minion. Poor Anna Morgan, 9th generation Ventrue ex-CIA assassin was forced to put her wetwork and planning skill to work for a man infinitely her inferior. The player loved it, especially when Modius was still comically trying to figure out how to use Twitter and wanted to Embrace Taylor Swift (for the prestige).
Seriously, that was a scene.
Because even when Modius is at his weakest politically, he's still personally powerful. Auspex 3, Dominate 4, Obfuscate 4, Presence 1, Thaumaturgy 1 (okay maybe not those last two). He also has a Politics: Machiavellian of 4 and Intelligence: Practical of 4 that means as DUMB AS YOU THINK HE IS, he knows what's going on in Kindred society probably better than anyone but the Primogen or Lodin himself. If he went into torpor for a decade or two to clear his mind or left Chicago, I'm inclined to think he'd actually be as competent as Sebastian La Croix--which is damning with faint praise I know.
I've had player characters outright murder Modius with a dragonsbreath shotgun (that Modius is weak enough to let them keep) and burn down his mansion as the pitiful end for a man but I'm inclined to think players could work for him as well. He's the kind of NPC that a Ventrue or Tremere could learn to manipulate as the power behind the throne in the Camarilla gerontocracy. I also had Son prop him up in my 5th Edition Chicago by Night game as the Malkavian "fixed" his brain by encouraging him to indulge his darkest impulses and be more hateful than scared--which makes him indistinguishable from most other Elders. He actually became Keeper of Elysium and almost overthrew a (fake) Lodin.