Hey folks,
Onyx Path publishing has stated that LET THE STREETS RUN RED is going on for sale this Wednesday! As such, I felt it was time to close the old thread that was made in anticipation of its release and build a new one for those who want to discuss this new and exciting product.
Note that this thread is open to spoilers since it's now released so if you want to be surprised, read the book first.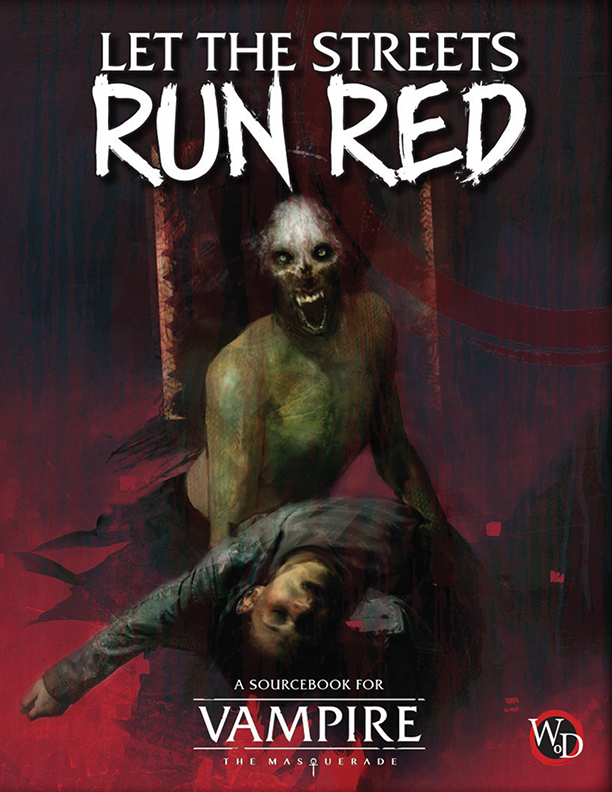 Source:
http://theonyxpath.com/auto-gratifyi...meeting-notes/
This Wednesday
Let the Streets Run Red
for
Vampire: The Masquerade 5th Edition
with PDF and PoD versions available on
DTRPG
!
Politics. Philosophy. War. Brinkmanship. They make a vampire think, feel, and fight for something, whether it be tangible or ethereal. These things give a Kindred meaning.
Whether letting the Beast rage in the gun-happy South Side of Chicago, chasing prey around the Loop, plotting out in Gary, or fleeing the Inquisition into the murky swamps of rural Illinois, Chicago always gives a Kindred an activity or two to fill up their nights.
The one certainty is that blood will flow. It will flow, and the streets will turn red by the dawn.
Let the Streets Run Red includes:
Four full stories for play over multiple game sessions, each handling a different core theme from Vampire: The Masquerade. These chronicles can be played independently of each other or in sequence.
Deep coverage of the vampire domains of Chicago, Milwaukee, Indianapolis, and Gary and some of those cities' undead inhabitants.
A cast of Kindred with biographies, ambitions, intrigues, links to other characters, and ways to include them in any chronicle, whether as antagonists, a supporting cast, or inspiration for playable characters.
New Loresheets for inclusion in your game, allowing player characters to start with a foot, claw, or fang already planted in the roots of the chronicles within this book, and beyond.
Nine ready-made characters so you can start playing any of the chronicles in this book immediately.
Notable Posts
Milwaukee by Night notes by Different Justin
My review of Let the Streets Run Red
My "Power Prey" experience
Chronicle 1: Power Prey thoughts
Chronicle 2: The Dying Fields thoughts
Integrating Let the Streets Run Red's chronicles
Chronicle 3: Innocence in Blood thoughts
Chronicle 4: Rusted Jungle thoughts part 1
Chronicle 4 Rusted Jungle thoughts part 2
Chronicle 4: Rusted Jungle thoughts part 3
Let the Streets Run Red (25 years of Vampire: The Masquerade)