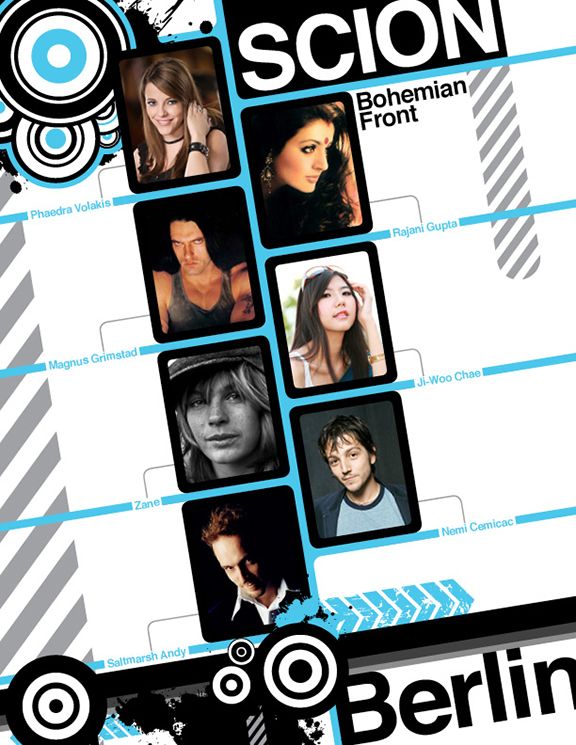 Scion: Bohemian Front is a Scion game which will take our heroes from Hero Level through God level. I have run two Scion games Scion: Rada and Scion: Petro each of which ran about six years and took the PCs to Legend 12, and I have every expectation this one will as well.
Not a great deal of background required beyond the general setting is that described in the Scion setting. I am not using the "World at War" material as such, but do have the concept of warring Pantheons, just using those in the game, not what are to me fairly weak pantheons. Past that, the setting is pretty much the setting from the books, such as it is.
Our heroes will be Legend 3 the first story, then graduate to Legend 4 for ~ 3 stories. They will be Legend 5 for a story then 6-8 ~3 stories each, 9 for one story, 10-12 around 3. That's about how Rada and Petro went.
All the PCs will have a connection to the city of Berlin, and the first couple stories take place there. As is the usual case for Scion, though, most stories will take place in other locations. Hero tends to be on Earth, while Demigod spreads into Terra Incognita and Underworlds, and God spreads further into Overworlds. So the PCs will be adventuring all over. But there will be a base in Berlin. More will become apparent about that in our first story
Our Cast
Magnus Grimstad, Scion of Bragi, Aesir
: Magnus is from a small town in Norway, and left to find himself when he outgrew that town's limitations. He has been traveling all over Europe, wandering from town to town and relying on his music to get him by. Magnus is large, and is both physically and socially imposing. He has an intense personality that tends to swing between maudlin fatalistic depression and a manic desire to wring every last bit of living out of life while there is still time. He tends to drink heavily when at either extreme, less so when he's more in the middle, and his mood swings can come suddenly and without warning.
At this point in the game Magnus has never talked to Bragi in person. He mostly deals with them through his Guide, his frost giant half-brother Kjell. Kjell is loyal to his father Bragi, but he's also loyal to his grandfather, Utgard-Loki. Kjell believes that Magnus will ultimately become the skald that chronicles the Ragnarok and keeps the legends of those who fell. Both Utgard-Loki and Odin see the usefulness of having influence on the one who will tell their stories, and Magnus is pretty much destined to become caught up in their intrigues.
Nemiz "Nemi" Cemicac, Scion of Quetzalcoátl, Atzlánti
: Nemi is the well educated young head of Future Life Foundation (FLF), a non-profit NGO focusing on creating miraculous prosthetics to help people live better, fuller lives after tragic accidents. His visitation changed little about Nemi, save that now he has a Divine Right to rebuild lives.
Nemi is first and always a healer. Some call him the Repairer of Broken Dreams for the work he and his foundation do for victims of physical loss. More than a doctor, scientist, or engineer, Nemi is a visionary, constantly seeking ways to enhance the lives of those around him. As a hero, this includes bolstering his allies and bedeviling his enemies.
Chae Ji-Woo, Scion of Fu Xi, Celestial Bureaucracy
: Chae Ji-Woo is a Korean daughter of Chang'e who was awakened as a scion of Fu Xi when she unknowingly stole her younger brother's divine legacy. Since then, she has wandered Asia and Europe, living the bohemian lifestyle as an artist, dreamer, fortune-teller and occasional hero. She happily nurses an addiction to absinthe, enjoying the mysterious ways the liquor enhances her perceptions.
Insatiably curious, Ji-Woo is extremely intelligent and observant, but lacks the focus to apply herself to anything (even a routine conversation) for long, which makes her seem perpetually distracted. She feels a strong connection to the heavens and embodies the whimsy and freedom of the wind and skies. She believes she is destined to follow in Fu Xi's footsteps and become a mystic, but for now, she feels perpetually lost and directionless, a situation that bothers her far less than it probably should.
Rajani Gupta, Scion of Kali, Devas
: Rajani is a warrior and a tattoo artist. Awakening to her heritage in India, she sought to express herself with Tattoos, especially a notably impressive one of a sword across her shoulder, which she can draw forth and use as a weapon. Rajani is also a fan or hard rock and metal music,and is considered the best tattoo artist in Delhi.
Rajani is fairly combat focused. Built as a heavy hitter, she emulates her mother on the battlefield.
Phaedra Volakis, Scion of Hermes, Dodekatheon
: Phaedra was awakened after being the first Greek archer to win a gold in the modern Olympic Games. Before she learned her true parentage, Phaedra used her limited fame to become a motivational speaker, hoping to assist others in becoming the best they could possibly be. The only problem with this plan is, she's not the most charismatic woman.
Incredibly focused, Phaedra is all about the mission - whatever that may be. She is intense and stubborn, but also very loyal to her allies. Unsurprisingly, she enjoys bow hunting as a form of relaxation and now uses her hunting skills to track down wayward titan spawn and complete whatever task her divine father sets before her.
Zane, Scion of Nantosuelta, Nemetondevos
: Zane is a former street kid, living in the streets of London since she was 11, and with the prostitute she thought was her mom before that. When she awakened, she was discovered to have been the lost daughter of Nantosuelta, who was kidnapped as a baby. She still hasn't figured out who was the one who took her, but has mostly spent her time wandering from city to city and having fun.
Zane is at home in the shadows, keeping her eyes and ears open for anything interesting going on, but also has no qualms about getting in your face in a knock down, bare-knuckle brawl. She's always been the defender of her gang and is strongly drawn to protect and support her friends. She hasn't aged since she awakened, so she still looks to be about 16, and occasionally takes advantage of that to get away with a bit of an extended childhood.
"Saltmarsh Andy" Du Mer, Scion of Manannán mac Lir, Tuatha Dé Dannan
: "Saltmarsh Andy" Du Mer is a Scion of Manannán mac Lir. He is from Castletown on the Isle of Man. Saltmarsh Andy is a tricky fellow, with many aliases and many stories. A firm believer that the truth is for the uncreative, he entertains, amuses and confounds with double talk and misdirection. However, there are lessons behind his tricks; he never tricks people for his own ego or to bring them harm…unless they are his enemies. He teaches and guides, albeit in an unconventional way. Andy is the magic man; he makes things happen. Andy considers himself above petty combat and only arms himself for show.
Andy's role can best be described as buffer and face. Much as people are often better then reality in his stories, his allies are made better then the reality of their abilities even in reality by use of Magic, Enech, and Epic Social Knacks, even as his enemies are weaker due to the same in reality then the reality of their abilities. He is slow to lay Geasa, however. While Andy revels in being part of the tale, most people know nothing really about who he really is, beyond his divine parent. Even his name is a lie.
If you read previous Scion stories, Ji-Woo has the same player as Erika Lacey Scion of Izanami, Nemi has the same player as Storm Scion of Zeus, Rajani has the same player as Carina Scion of Bast, Saltmarsh Andy has the same player as Sam Gannon Scion of Anubis and Pierre Ghede Scion of Baron Samedi, Phaedra has the same player as Jacob Marsh Scion of Frigg, Magnus has the same player as Cesar Acosta, Scion of Huitzilopochtli, and Zane's player is new to Scion. There is also heavy crossover with players of Geist and Vampire, and some crossover with others.
Gonna drop in the first backgrounds then first session soon, then alternate with backgrounds and sessions. More coming very soon.