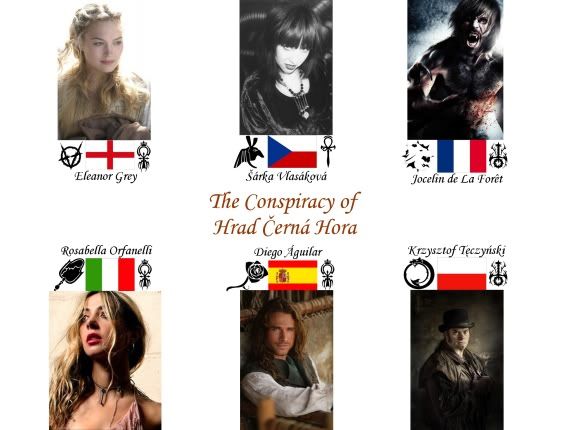 The Conspiracy of Hrad Černá Hora is a Vampire: The Masquerade Chronicle using V20 and material from Vampire: The Masquerade Revised, Dark Ages: Vampire, and Victorian Age: Vampire. The focus of the game is on a Conspiracy of Elders that met in the dying days of the Anarch Revolt and have members in both the Camarilla and the Sabbat that find themselves blown together again by the winds of fate in 2012…or perhaps the machinations of puppeteers of far greater age than they. While the focus of the game is in 2012 in the home base of Prague, Czech Republic, the opening of the story is in 1483 Bohemia as they undertake a simple but important mission from the Anarch Revolt leaders to deal with the increasing connection between the Elders of the East and West, specifically the machinations of the Tremere. More is at stake, however, than defending a simple castle, as our protagonists will discover.
Like my other games Balance of Shadows and The Eastern Question, The Conspiracy of Hrad Černá Hora will be told mostly in character journals, with commentary by me (and possibly players) to fill in the gaps. Followers of other game journals would recognize Eleanor has the same player as Gwen from Geist, Šárka has the same player as Natalie from Geist, Rosabella has the same player as Alexia from Geist , and Diego has the same player as Doc from Geist. Most also have Scion characters on the off chance someone reading this is following those as well.
The Conspiracy of Hrad Černá Hora has been roughly 3 months in being put together. Several meetings have taken place, hours and hours if not days worth of research has been done. Locals to Prague have been sought for advice, maps consulted, names played to get the right sound on sites such as
Forvo.com
, nearly 100 pictures culled from the internet just for this game, and book after book of classic Vampire: The Masquerade and Dark Ages material consulted, even 1st edition/2nd edition/VDA material not seeing real use for inspiration. In other words, about par for the course for one of our new chronicles these days
Some material will deviate from canon, but generally only where I think it makes a better game. Carlak is not Prince of Prague in this WoD, and Vasily is not the fop described in World of Darkness 2nd. I am mainly using Vampire, though I am also using material from Kindred of the East and Mummy the Resurrection. Werewolves exist, but are not those of Apocalypse, similarly Mages are out there but not using Willworkers. Prague is a Diplomatic hub nominally Camarilla and with a Camarilla Prince but with a Sabbat Bishop representing them and a handful of independent Cainites. It is one of the two cities in the world some intersect meetings can easily take place in (the other being San Francisco)
Metaplot wise, the Schismatic Assamites are in the Camarilla (it's a major plot point as it happened in Prague) and Gangrel lack official representation, though a great many remain in the Camarilla. Malkavians have "caught" Dementation and the Week of Nightmares has happened, though I am going on the high end of remaining Ravnos in the world (there are still more than the largest Bloodline). The Ahrimanes and Tremere Antitribu are gone. A new Regent has not been appointed and the Sabbat are trying to forestall a civil war. The Anarch resurgence is also taking place as per V20 and West Cost USA is largely Anarch dominated outside the "sister" Diplomatic Hub of San Francisco. I will be posting my history of Prague about the time we make the jump from 1483 to 2012.
I invite you to join us. Please feel free to read and enjoy entries, and take inspiration from and steal ideas, be they plot, characters, or events. Feel free to make comments or ask questions about what is going on…though some may be answered via PM if they might spoil my players. As with other games, some of the players may haunt the thread a bit as well, and give their two bits or answer questions (though no one is being required to do so).
Below is our cast, circa 1483. You will note Masquerade Paths rather than those of Dark Ages: Vampire are used. This was a deliberate decision made due to the relatively short nature of the 1483 segment (estimated around 5 sessions). Rather than change systems for how Morality works, we just decided to keep the Masquerade system since that would be the bulk of the campaign (though some Paths are obviously unavailable in the era). Note several will change Morality, Demeanor, even Nature as the years pass.
Mary Eleanor Grey
Childe of Patricia of Bollingbroke (Tyler)
Clan: Brujah
Bloodline: -
Title: -
Generation: 7th
Morality: Humanity
Nationality: English
Concept: The Power Behind the Throne
Nature/Demeanor: Director/Visionary
Picture 1
,
Picture 2
Eleanor was a British Noblewoman destined for the Church after the death of her husband. Her strong convictions caught the eye of Patricia of Bollingbroke, who embraced her on a nostalgic trip through her homeland. Eleanor is a shadowy manipulator who tends to work behind the scenes, particularly concerned with the status of women.
Eleanor will eschew the Anarchs and join the Camarilla long before the 21st Century, unknowingly following in the footsteps of her Sire in doing so.
Šárka Vlasáková
Childe of Elizabetha
Clan: Followers of Set
Bloodline: -
Title: -
Generation: 7th
Morality: Path of Sutekh
Nationality: Bohemian (Czech)
Concept: Femme Fatale
Nature/Demeanor: Celebrant/Fanatic
Picture 1
,
Picture 2
,
Picture 3
,
Pronunciation
Šárka was a born to the Hussites in Tábor the year the town was founded. Her rebellious streak, along with her cunning and charisma, brought her to the attention of a Setite involved in the Church of the Black Magdalene. Šárka jumped eagerly into her status as a Vampire, eager to bring enlightenment and willing to do whatever it took for her Sire and her Sire's Dark Master…even aiding the Anarchs.
Šárka will mellow considerably over the Centuries, returning to Humanity as a moral compass and becoming less a Fanatic more a Sybarite. Her messages to her allies will echo in the night, encoded as a Numbers Station airing off an on for most of the 20th Century.
Jocelin de La Forêt
Childe of Rhun de Tintagel
Clan: Gangrel
Bloodline: -
Title: -
Generation: 7th
Morality: Path of the Beast
Nationality: French
Concept: Perfect Predator
Nature/Demeanor: Celebrant/Thrill seeker
Picture
Jocelin was a French hunter from a minor noble family who found himself the hunted when his sire came across him. Introduced into Clan Gangrel, Jocelin traveled Europe, even learning at the feet of Arnulf, before joining the Anarch movement.
Jocelin will remain in the Anarchs as they become the Sabbat, disdaining the Camarilla calls to hide his nature. Thus he will be among the founding Country Gangrel Antitribu. He will join the Black Hand at its foundation, becoming a feared Remover by the 21st Century and follower of the Path of Orion.
Rosabella Orfanelli
Childe of Giovanni Pallazzini
Clan: Malkavian
Bloodline: -
Title: -
Generation: 7th
Morality: Humanity
Nationality: Paplini (Italian)
Concept: Former Ghoul Master Thief
Nature/Demeanor: Eye of the Storm/Survivor
Picture 1
,
Picture 2
,
Picture 3
Rosabella was a ghoul and trained thief for a Roman Malkavian. After years of flawless performance and showing exemplary promise, Rosabella was embraced. Her greatest achievement was stealing a major Cainite artifact for her now-Sire, though she understands little of the significance of it now. When her Sire joined the Anarchs, Rosabella followed. Rosabella has an unkempt appearance and a power-object fixation with her doll.
Rosabella follows her Sire and joins the Camarilla after the revolt. While she picks up Dominate like most Malkavians, by the 21st Century she is among those infected by Dementation.
Diego Alarico Esparza Vargas Águilar
Childe of Theophano
Clan: Toreador
Bloodline: -
Title: -
Generation: 7th
Morality: Humanity
Nationality: Castilian (Spanish)
Concept: Artiste With a Shadowed Past
Nature/Demeanor: Survivor/Bon Vivant
Picture
Diego was a Spanish born Catholic in Muslim Toledo. Thanks to his father and uncle, he grew into a fine swordsman and bladesmith. Thanks to his mother, he grew into a just leader of men. An extreme likeness between Diego and his cousin Juan Carlos resulted in a Cainite competing with Theophano confusing his targets and Embracing the wrong cousin. Diego knew only that Theophano looked very pleased with herself after he awoke from her Embrace. Now Diego is setting out with a new group of Anarchs to lend leadership and steel to the revolt.
Diego remains in the Camarilla through the 21st Century, even spending some time as an Archon though he currently has no such status. He remains a respected Elder in the Clan.
Krzysztof Józef Władysław Tęczyński
Childe of Razkoljna
Clan: Tzimisce
Bloodline: -
Title: -
Generation: 7th
Morality: Path of Bones
Nationality: Polish
Concept: Dark Occultist
Nature/Demeanor: Thrill Seeker/Curmudgeon
Picture 1
,
Picture 2
,
Picture 3
,
Pronunciation
Krzysztof was the third son of one of the most powerful noble families in Kraków. Originally trained for the church, he found himself more interested in the various mysteries of the city. One such investigation lead him to Wawel Hill, lair of the legendary dragon. Instead, he found Razkoljna, Prince of Kraków. Impressed by his intellect and calm in the face of his doom, she Embraced him…and not long thereafter, he and his siblings killed and consumed her, joining the Anarchs. Such is the way of things sometimes.
Krzysztof's Koldunic Mastery would help contribute to the spread of the Ritae, and he would become a Priscus of the new Sabbat on the Path of the Scorched Heart. He also battled Poland's enemies, and his conflicts with first Nazis then Communists would make him a lot of enemies…
Edit: Here is our Cast in 2012
There is our cast. I would expect an update of journals and recaps about every two weeks. While I am not going to put words in anyone's mouth, based on past experience you are mostly likely to hear accounts from Eleanor, Šárka and Diego. I don't really have experience to know about Jocelin, but I would not anticipate journals from Rosabella or Krzysztof.
I've got a couple backgrounds coming up very shortly