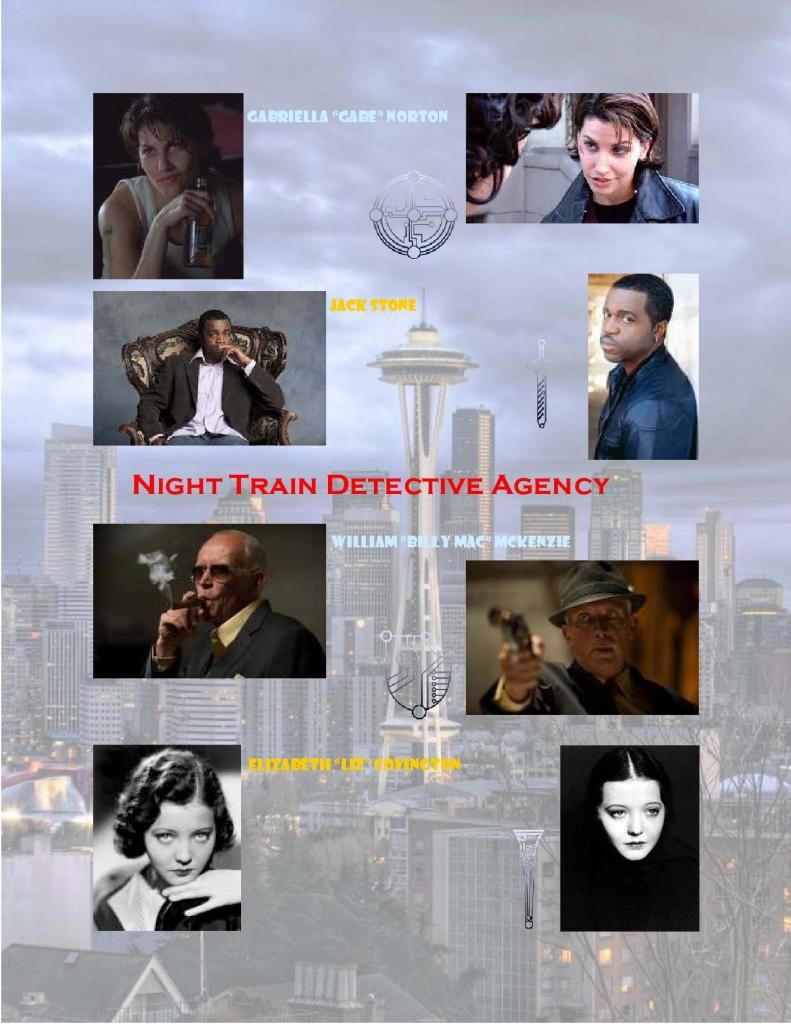 Demon: Night Train Detective Agency is a Demon: The Descent game set in Seattle. We are not using the time splinters stuff from the official version, as while we picked Seattle before we realized it was the official city, our plans did not jive with the time travel aspects of that setting.
Night Train Detective Agency has some deliberate Noir and Neo-Noir tropes and elements. It is not restricted to them, but certain imagery and events will hew a little closer to that, and the ring has a hard boiled detective, femme fatale, etc.
Night Train Detective Agency will, like other games, be told in character journals. The nature of the Unchained means it will have less actual journals and more stories or internal monologues (fitting a Neo-Noir theme). This is my first Demon: The Descent game, my fourth Chronicles of Darkness game. Like
Balance of Shadows
and
Malibu Dream House
, Night Train Detective Agency is heavily sandboxy, as our Demons live out their new lives in the hostile realm of the God-Machine, and it will explore their hopes and their woes as much as a solid "Storyline." Some sessions may even be entirely IC banter. I expect 1-3 journals regularly, hopefully at least two per session.
This campaign uses the GMC system, including the Beat system. We are trying it out, seeing how it works.
Our Cast, the Night Train Detective Agency.
Quietus, "Jack Stone" "Mr. Ends"
Incarnation: Destroyer
Agenda: Saboteur, Tempter
Human 1
Human 2
Human 3
Demon 1
Quietus was a Destroyer sent to arrange the death of a young man to further the purposes of the God-Machine. He had to kill a specific young man, and it turned out that young man was a good boy, but with a bad friend who was a bully and scum. Jack killed him instead, and fell. Now Jack decides who he kills.
Jack strongly identifies with the African-American ethnicity of his primary cover, with some modeling off of John Shaft. He knows people, and he has major issues with authority. His Demonic form is like a glass robot, looking fragile yet very tough. Jack's player may have to miss from time to time, being a new Dad.
Kilroy, "William McKenzie" "Billy Mac" "Vivian Marley"
Incarnation: Guardian
Agenda: Inquisitor, Saboteur
Human 1
Human 2
Demon 1
Demon 2
Alternate Cover
Kilroy was a Guardian sent in the cover of a senior federal agent in Texas to see to it domestic terrorist Vivian Marley survived to get to trial and be acquitted, then leave through the side door. He did so, but found a gunman waiting in the lot. Not wanting to let his charge be slain, he intervened to protect her, foiling the last step of the God-Machine's plan. As Kilroy put it, he then stepped sideways and ceased to be a pawn. He worked with Vivian awhile, but in the end subsumed her and added her to his covers.
Kilroy is retired now, a hacker and terrorist but also a detective who works to keep tabs on the God-Machine and strike when and where it is weak. He is too old for this shit. His Demonic Form is armored and reinforced, with jets and the ability to download people's memories, making him an ultimate hacker of a sort.
Clytemnestra, "Elizabeth Covington" "Liz"
Naomi Cruz, Ms. Weaver
Incarnation: Messenger
Agenda: Tempter
Human 1
Human 2
Human 3
Demon 1
Demon 2
Alternate Cover 1
Alternate Cover 2
Clytemnestra was Messenger sent to ensure the marriage between a powerful pair of politicians was broken up and they were distracted from calling for an investigation into a particular bit of the God-Machine's activity. She was to seduce each separately and cause a scandal. Unfortunately, they were both very dull, and Liz wound up invited to a party by someone much more interesting which involved Brazilian dancers and cocaine. By the time the haze cleared her window had passed. She no longer cared, and fell.
Clytemnestra has been in a haze of drugs and beautiful women and handsome men for some time. However, her conspicuous consumption lead to her seducing and consuming the first angel sent for her, and going loud to escape the second party. Now she seeks to prove herself to not only her new ring, but to herself. Liz is a quintessential femme fatale. Her Demonic form is inhumanly beautiful but spider like, very mobile and with extra arms and the ability to drain the Essence of others for her own Aether stores. She has (mostly untapped) sensory abilities in the form as well.
Speed Demon, "Gabriella Norton" "Gabe"
Incarnation: Psychopomp
Agenda: Inquisitor
Human 1
Human2
Human 3
Demon 1
Demon 2
Speed Demon was a Psychopomp sent to ensure a proper quantity of despair was gathered for one of the God Machine's Occult Matrixes. Unfortunately, she had too good a heart for it. Also, she found her way to booze, and booze proved very distracting. The God-Machine was savvy to her attempts to bullshit it, and she fell.
Gabe is still a detective, though. A hard-boiled PI, Gabe curses like a longshoreman on amphetamines and drinks like the well will never run dry. She is still all about speed, though. Her Demonic form is usually a silver motorcycle, but it's amorphous nature allows it to change, and it is not unknown for her to hit the streets as a sporty silver car, especially when a silver driverless motorcycle might get noticed. She spends as much time with the Addicted Condition as her Agenda one.
Added a bit later:
Fulgur "Jared Evans"
Incarnation: Destroyer
Agenda: Saboteur
Human
Demon
Demon Partial
Demon Loud
Fulgur was a Destroyer sent under the cover of a boy detective with his buddy Gene. The death of Gene's parents led him to turn his back on the God-Machine out of regret and guilt, but it was the death of Gene that truly made him angry.
Fulgur has recently hooked up with the Night Train Detective Agency, and his potent rage, and potent mastery of electricity, compliments well the skills he retained from his years as a boy detective. More grown up now, Fulgur divides his time between the Agency and college
Markizel "Terry McTavert"
Incarnation: Psychopomp
Agenda: Integrator
Human
Demon
Markizel fell fairly recently, after questioning a number of the features of the world. He seemed to fixate on some more than others, such as chicken wings. He says he wants to improve the God-Machine, not destroy it, but other members of the Agency wonder if his trying to do one would lead to the other.
As Terry McTavert, he has joined up with the Night Train Agency as a mechanic, which has, so far, made him useful enough not to be eaten. He approaches the world with a childlike naiveté, with occasional asides that can get him banned from anywhere with children. He is a McGuyver trope.
First session was Saturday, and on "Off weeks" I will be putting up backgrounds or local introductory material. So something like that coming up Saturday, then in a week from then journals for session 1. Comments and Questions welcome.