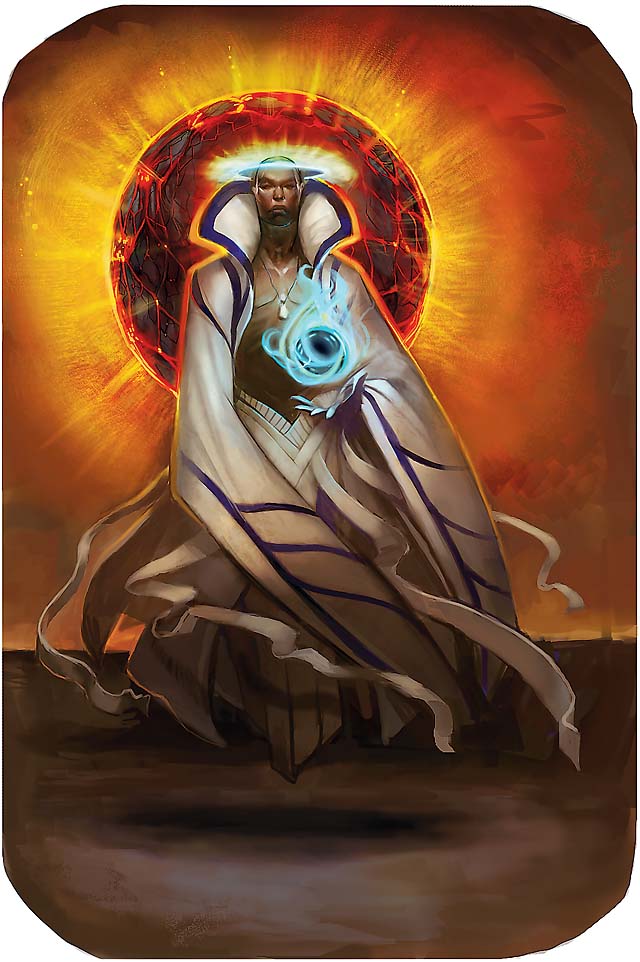 Order of the Iron Tower
Mages whose will extends beyond their flesh.
Nicknames
: Acolytes, Far-Hands, Iron-Willed, Mysophobes (Derogatory)
Organization
: The Order of the Iron Tower are paragons of traditonal Diamond hierarchies - the learned elders of the Legacy hold near absolute social command over their juniors, and only by demonstrating a refined understanding of the Mysteries does one progress. Typically a Legacy Master is attended by their Adept apprentices, who in turn are attended by Disciples, and so on. While Acolytes are rarely
lazy
, most will shunt work they deem "beneath" them onto their subordinates. As a rule of thumb, few Adepts of the Iron Tower will personally attend to mundane tasks that they cannot achieve with Telekinesis, and a Master will shun any task that requires them to tread the profane earth. Few Masters of the Iron Tower deign to even maintain a Sleeper facade upon learning to scorn gravity's pull, although the more pragmatic will wear long robes or even hover imperceptibly above the ground. The rest operate through proxies when absolutely necessary, a pool from which new Acolytes are commonly drawn.
Theory
: Though Matter is a vital component of the Supernal, in the Fallen World it is a tyranny to be overcome.
Background
: Many Legacies will claim ancient pedigree, dating back to the earliest days of Post-Fall Neolithic Awakened society. If nothing else, the Tamer Legacies have a solid claim to that distinction. The Order of the Iron Tower, on the other hand, touts their superiority as deriving from a Supernal origin.
The Order of the Iron Tower descends from a summoner of Supernal Entities, alledgedly a Legacy-less Archmaster of Forces named Wa who bartered with the denizens of Pandemonium. A Mastigos before the Golden Road, the Archmage had always had a self-acknowledged irrational grudge against the Matter Arcana. They were surprised however, to discover that this bias had adherents even in the Phenomenal Realm. These Imps, who called themselves "
The Lords In Iron
" or "
The Lords of The Iron Tower
" interchangeably, preached against the so-called "tyranny of Matter". They believed the Exarchs have perverted Matter in order to shackle Space, and that only in defying Matter's limitations could that tyranny be fought.
While a more pragmatic Mage might have simply sought out a Matter-aligned Legacy to learn -or even point out that all of the Gross Arcana ultimately contribute to the physicality of the Fallen- even Archmages can be irrational. Wa aligned themself with the Imps, and under their tutelage formed a Legacy predicated on turning the intangible Forces of the Fallen World against Matter's alleged shackles. To spread the Legacy, they seeded the knowledge of how to summon
The Lords In Iron
in Mysterium Athenaeum and Silver Ladder storehouses, and scribed Daikonomikon for the
Lords
to carry forth as Supernal commandments when summoned. Though not all curious Mastigoi heeded the strange Imps, enough did that the Order of the Iron Tower took root within the Pentacle.
Modern Acolytes preach a brand of staunch traditionalism in the interpretations of the Watchtowers, namely that Matter is bereft of meaning without human intervention. Many Acolytes refuse to truck with Matter, or self-initiate only deep enough to Shield themselves from that Arcana. They likewise revere Forces as an extension of will, a purifying Arcana into which they feed their weakness and refine their mind. Moros members, while not
rare
, are uncommon and often very uncomfortable around their peers.
Parentage
: Mastigos; Silver Ladder or Mysterium
Ruling Arcanum
: Forces
Yantras
: Concentration becomes a +3 Yantra; Casting a spell while having a Willpower pool over half full (+2); Suffering a Mental Condition appropriate to the cast spell, such as Paranoid for the spell
Isolation
(+2); Striking a
"power pose"
appropriate to the cast spell (+1) [Advice appreciated - I keep defaulting to 4e DnD-style Psion gear like orbs and floating gemstones]
Oblations
: Meditate in sensory deprivation; Studying the effects of a Matter Annulity; Communing with a
Lord of the Iron Tower
Prerequisites
: Forces 2, Fluent High Speech
Initiation
: Commune with a
Lord In Iron
, pass it's trial, and be allowed to study their Daikonomikon. Non-Mastegoi will typically require assistance for the summoning. Though later Attainments will come from a senior Acolyte, Initiation is always through Daikonomikon.
Wa has the Legacy Pedagogue merit.
Ritual
: Attainments with Scene-long casting times require the practitioner to center themselves using High Speech mantras, attuning their will to the Forces of the Fallen World. All such Attainments activate simultaneously. (Mechanically - successful meditation, as per the rules in Chronicles Of Darkness core)
The Ember Within
(Forces ●)
Initiation
The first lesson of the Iron Tower is that the body is a tie that can be loosened, with the correct application of will. By performing their meditative exercises, the Acolyte is able to supplement their flesh-puppet form with a measure of true strength.
(Space ●)
Once you've realized that the body is not the final arbiter of your abilities, the more esoteric limitations begin to fall away. After all, where we're going, we won't need eyes.
Like Raindrops on Hot Iron
(Forces ●●)
Meditative Mind 1
Mage Armour is the birthright of every Wise One, but many never progress beyond the most rudimentary sheath of Arcana-aspected Mana. Apprentices of the Iron Tower refine their control, learning to weave their defensive lattice through nothing more than sheer will.
(Space ●●)
While the Acolyte seeks to transcend the limitations of space and form, they have no desire to leave themselves vulnerable. Girding themselves in a bulwark of will, the Acolyte resists all but the most puissant of unwanted Space spells.
​
To Strike Iron Hot
(Forces ●●●)
Fast Spells
Disciples of the Iron Tower have internalized many lessons from their Supernal task-masters, teaching that have begun to coalesce into the ability to reach beyond the bounds of their flesh-puppet. While a hammer to the scalpel of their elders, Disciples of the Iron Tower are capable of delivering brutal blows by throwing orbs of compressed air and kinetic potential.
(Space ●●●)
That which an Acolyte touches is not soon forgotten - indeed, scaps of their will remain, filaments connecting them to whatever drew their attention. The barriers Matter layers upon the Fallen cannot fully keep the Iron Tower at bay.
What We See, We Hold
(Forces ●●●●)
Meditative Mind 2
Adepts of the Iron Tower have begun to master the art of the distant grasp - to enact ones will beyond the reach of one's flesh. Though not versatile enough to truly replace their flesh-puppet, many Acolytes at this level prefer to use this ability whenever possible.
(Space ●●●●)
Merging concepts of the spell "Co-Location" with "Telekinesis", the Acolyte no longer needs to concern themselves with the Speed of their handled objects. While brute strength and fine dexterity still dictates their distant reach, transporting an object from place to place requires a mere flicker of will. In addition, the reach of their invisible grasp extends dramatically, at the cost of consuming Mana.
Scorn the Profane Earth
(Forces ●●●●●)
Meditative Mind 4
The upper limit for those Acolytes who have not yet become Seekers is to scorn gravity's hold. The earth, the greatest symbol of the tyranny of Matter, need no longer stain the Acolyte's sole.
(Space ●●●●●)
Disregarding the trivialities of "distance", the Acolyte is simply wherever they wish to be.
​
Storyhooks and Secrets
● Acolytes often aquire small Perfected gemstones to Imbue, stringing them on chains until they become Adepts of the Iron Tower and can tether them. Despite the contradictory nature of this use of Matter, Acolytes insist that transluscent materials somehow circumvent their normal distaste. While this fashion choice usually assumed to be an affectation of tradition, it is actually in emulation of an Artifact held by the inner circle of the Legacy. This diadem, which appears as a flawless Perfected sapphire, floats in a steady circle around the head of whomever owns it. The gem radiates a constant effect similar to the dispellation-enhancing version of As Above, So Below, and under Active Mage Sight the gem is trailed by a High Speech script that fades as the stone reaches it again. Few are allowed close enough to study what the script says, and all who do refuse to speak of it. Speculation amongst credulous Initiates is that it is the crown of the lost Kings of Atlantis.
● The few Arrows in the Legacy are prone to the construction of "dancing blades"; levitating weapons that can fight alongside their owner. While an Imbued
Golem
spell is not unheard of, it is more common for the Acolyte to bind a Familiar to Claim the item. Ownerless blades turn up on occasion, and Arrow Acolytes are relentless in reaquiring them for the Iron Tower.
● The neighboring Consilium has always been heavily influenced by the rule of their Iron Tower Hierarch, but recently disturbing reports have been pouring in. Their Council has apparently declared all Matter-based Legacies and non-Iron Tower Moros to be pawns of Seers, and begun to exile all such "offenders". Executions are rumored to be in the offing, and that all Legacy-less Moros are being given the choice to convert or die. While refugees have been something of a boon in terms of fresh magical expertise, this new "Iron Dominion" may not remain inwardly focused for long.
OTHER
Lord In Iron
Rank 2 Pandemonian Imp
Power 6 Finesse 2 Resistance 6
Vice:
Predjudice.
The Lords In Iron
have a borderline irrational hatred of the Matter Arcana
Virtue:
Enduring. Iron only has significance in the context of sentience, and our will is iron.
Ban:
Cannot use or act against a spell of the Matter Arcana.
Bane:
An item blessed by an Apeiron or servant of The Chancelor within the last year. This need not have been a mechanical effect, simply openly approving of the item counts.
Arcana:
Forces 2, Mind 1, Space 2
Mana:
15
Corpus:
12
Willpower:
8
Initiative:
+8
Defence: 2
Speed:
8
Size:
6
Trial:
Destroy an item that could be used as a Bane against a
Lord In Iron,
or a symbol of material wealth with an Availability ratung equal to the
Lord's
Rank.
A
Lord In Iron
appears as a hulking, skeletal suit of multi-hued armour, scintilating with the light of an infinite spectrum. They carry weaponry reminiscent of kingly rods, often flanged maces and sturdy spears. Though most who have seen beneath the armour glimpse a vast hollowness within, those versed in Space perceive an inexorable gravity given tenous form. These Supernal Entities wage an eternal war against Matter, although all are quick to claim that they war agains tthe perversion of Matter wrought by the Exarch. This distinction is more or less imperceivable to any but themselves. Sceptical Mages worry that these entities are somehow "broken", a terrifying thought to apply to a denizen of the Phenominal Realm.
Lords In Iron
are rarely summoned by anyone besides prospective members of the Order of the Iron Tower, although they are known to be terrifying foes to unleash upon servants of The Chancelor.

Mastegoi who favor Forces spells occasionally find a
Lord
having designated themselves to be the Mage's Supernal Watcher. Such Mages will be treated with great respect by members of the Order of the Iron Tower, but often face great tribulations with any Matter-adjascent endevor they undertake.